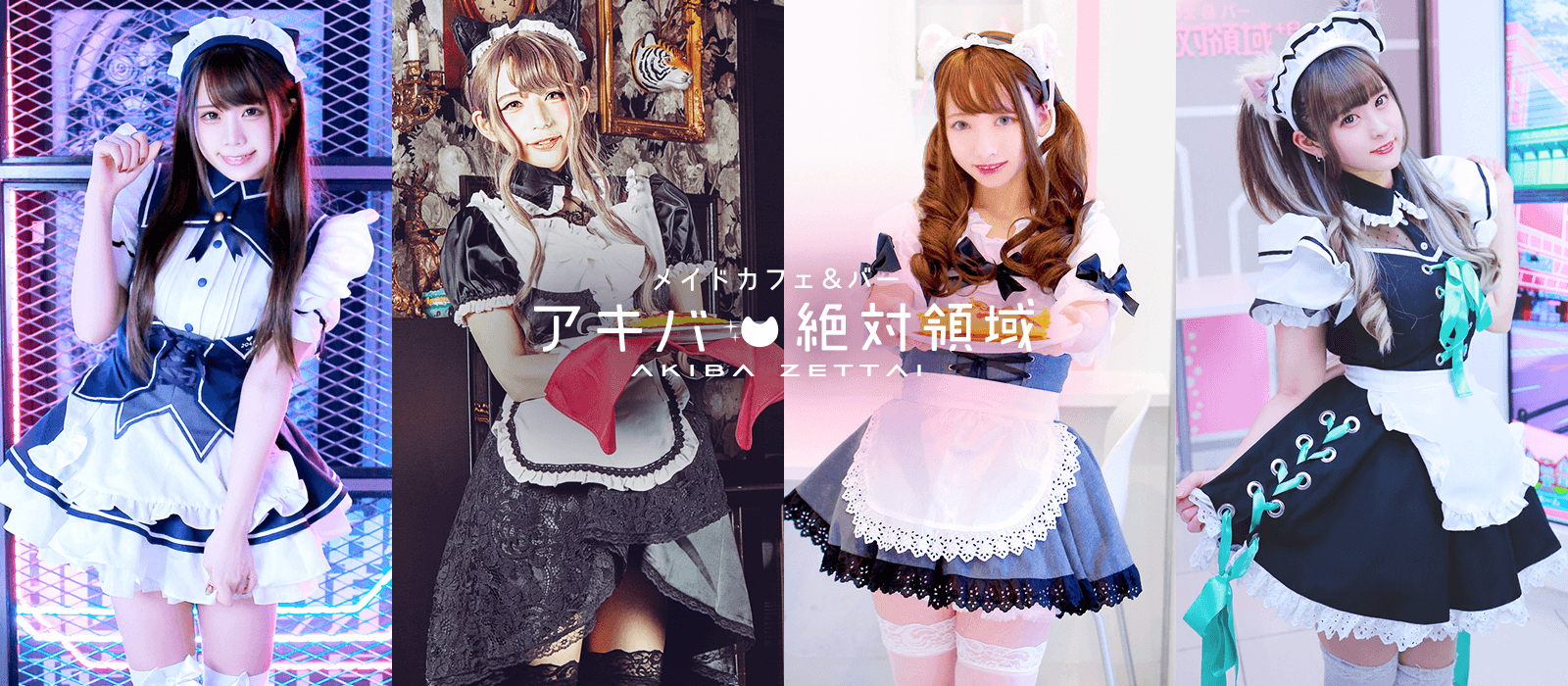 Akihabara maid café Akiba Absolute Area
is the top-rated maid café
in the Akihabara district according
to the world's largest travel review site,
TripAdvisor*
Cats that wish to repay human
kindness take on human form
in God's
"absolute area," where they serve you. *As of December 2018
HOW TO ENJOY
A spell to make it
taste delicious.

The maids cast a spell on all of the items on the menu to make them taste delicious. Cast the spell with them! Get tasty!! Yum yum!

Drawn menu.

Every maid cafe has a menu drawn by the maids themselves. A maid draws the illustration of your choice with ketchup when you order the omuraisu (rice omelet) dish!

Live performance
by the maids.

If you order an item on the menu which includes a live performance, then the maids will gather on the central stage and perform for you. Try ordering the Akihabara traditional art of "Wotagei"! Please enjoy the live performances with the maids!
SYSTEM
Admission fee 1hour:600per person
The admission fee will be automatically extended after 60mins and we charge hourly rate of 600yen.
Please order 1 drink every hour when extending your stay.
SHOP
Akiba Zettai Ryoiki

Akiba Zettai Ryoiki

Address

Sotokanda3-1-1, Chiyoda, Tokyo, 101-0021, Japan

Phone

+81-050-1180-6584

Business Hours

12:00~22:00

Open

365 days per year

Akiba Zettai Ryoiki
A.D.1912

Akiba Zettai Ryoiki A.D.1912

Address

Sotokanda3-1-15, Chiyoda, Tokyo, 101-0021, Japan

Phone

+81-03-6876-4178

Business Hours

12:00~22:00

Open

365 days per year

Akiba Zettai Ryoiki
+e

Akiba Zettai Ryoiki +e

Address

1-6-3akibaasobikan2F, Sotokanda, Chiyoda-ku, Tokyo, 101-0021, J

Phone

+81-3-6260-9435

Business Hours

12:00~22:00

Open

365 days per year

Akiba Zettai Ryoiki
A.D.2045

Akiba Zettai Ryoiki A.D.2045

Address

4-2-7TIT Akihabara BLD.2F, Sotokanda, Chiyoda-ku, Tokyo, 101-0021, J

Phone

+81-3-6882-4174

Business Hours

12:00~22:00

Open

365 days per year